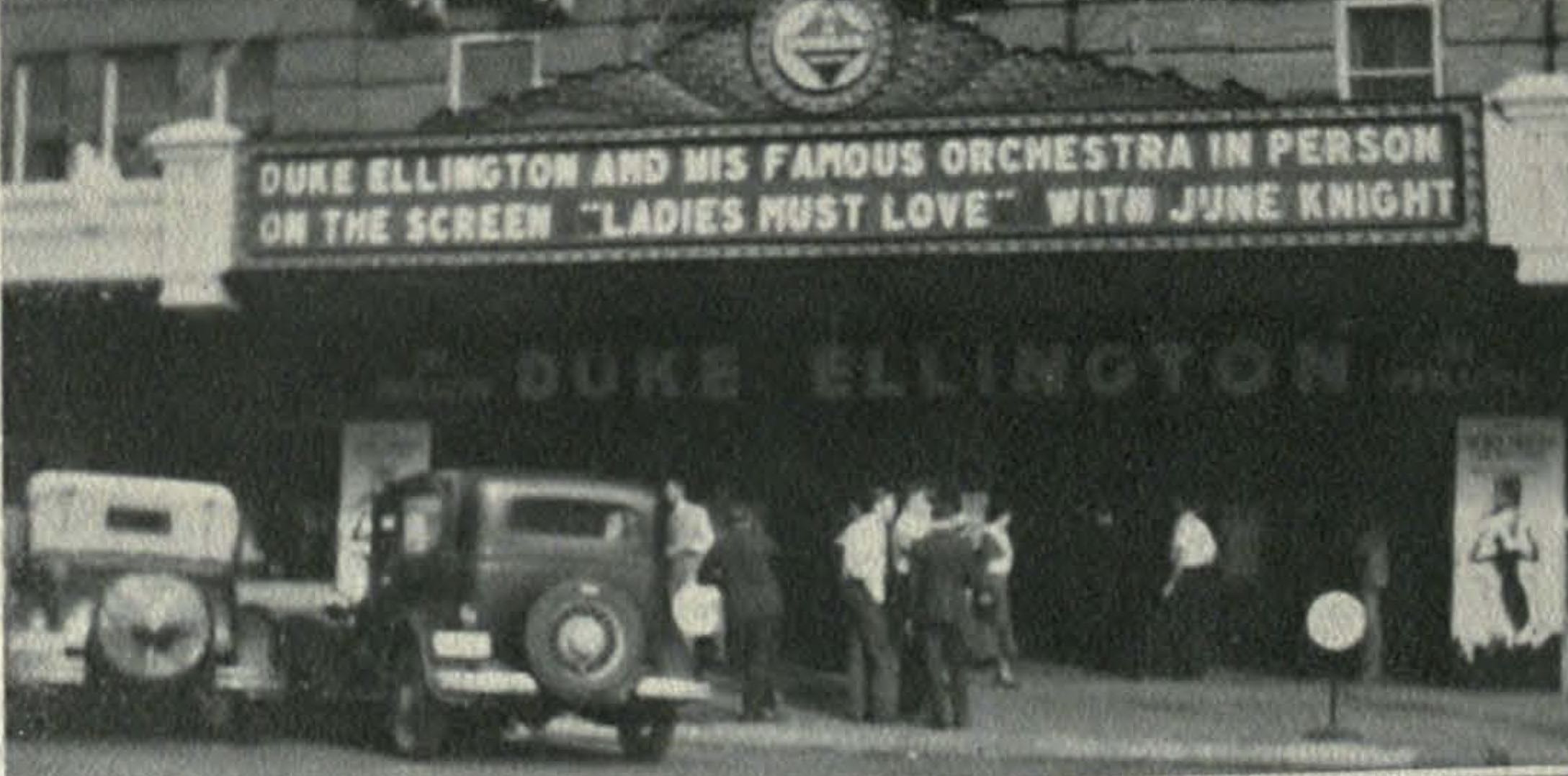 The Cactus: Yearbook of the University of Texas (Austin: Texas Student Publications, 1934).
During the 1930s and 1940s, a remarkable number of "name" national bands played for UT, Samuel Huston, and Tillotson students. This was notable, since Austin was a small city on the edge of the arid and rural Texas Hill country, far from the metropolitan music industry centers in the Northeast, Midwest, and West Coast. Achieving success as a pop orchestra typically meant being away from such out-of-the-way locations. Despite being in a fairly remote place, young music fans at UT got to see, listen, and dance to some of the most well-known and acclaimed dance orchestras in the country at the time. The presence of the university was undoubtably a major reason why the top orchestras in the country came to Austin. But their concerts also show the increasing reach of the national music industry at the time: these bandleaders were not just stars where they lived and played, but to young Americans flung across the wide expanse of the continent.
At the time, all of these bands were at the pinnacle of pop music. Some of these performers are now remembered as essential to the history of jazz and American music: for example, Louis Armstrong , Duke Ellington , Benny Goodman , Jimmie Lunceford , Earl Hines , and the Dorsey Brothers. They played in Austin when they were transforming popular music. Other groups were equally significant at the time, but history and critics have been less kind to them. Many have receded into obscurity and/or been dismissed as inauthentic or musically bland, like Guy Lombardo , Vincent Lopez , and Kay Kyser .
Most of these concerts happened as "All University Dances" in the Union or Gregory Gym on UT campus, since typically only a large institution like the university could marshall the money, people, and space to bring major bands to town. But this was not always the case. After the mid-1930s, fraternities, sororities, and clubs also managed to get "name" groups to play at venues around campus, like the Texas Federated Women's Club and the Austin Country Club (now Hancock Golf Course). The Royal Auditorium and Cotton Club on 11th street also brought major bands to East Austin, although we only have records of (probably) a fraction of the performances.
A Selected List of National Bands that Played for UT-Related Events, 1930-1946
How Star Orchestra Concerts Happened: Radio and Booking Agencies
We should remember that it wasn't a given that UT students would care about big bands from out-of-state and be willing to pay more to see them perform. The consistent presence of star orchestras was a phenomenon of the 1930s; just a handful of dances by non-native groups happened during the whole of the decade before. Three things created the conditions for why national band All University Dances happened: radio, booking agencies, and touring.
Orchestras like Benny Goodman's or Jimmie Lunceford's became "name" bands through the radio. The Depression caused a virtual collapse of the record industry and, during the 1930s, most Americans got their pop music through radio and film. The dominance of radio in the 1930s and the appearance of national bands in Austin were interconnected. Radio's ability to focus so much attention on a handful of ensembles made possible the existence of "name" bands and celebrity bandleaders. Without radio, UT students would likely have never heard of nor gone to see Ellington, Lunceford, Dorsey, and Lombardo.
The "name" band concerts at UT were also dependent on the presence of large corporate booking agencies, which became increasingly prominent in the first half of the 1930s. The booking agencies exerted incredible power over bands—often taking large chunks of their incomes—by controlling access to radio broadcasts, the best concert venues, and recording/film contracts. They also managed promotion, advertising, and booked tours. The tours that brought Tommy Dorsey and Xavier Cugat to Austin happened because of the existence of these expansive corporations. In fact, most of the bands that played at UT came from the largest and most powerful agency, the Music Corporation of America, which had a student representative (Jimmy Phillips) to the Dance Committee in the Texas Union.
The Dust, Sweat, and Danger of Touring
Getting to Austin was often a grueling task. Most of this period was before the national highway system and many roads were rough and slow-going. During the war, rationing of gasoline and rubber made touring even more difficult, if not impossible (much to the chagrin of UT students, both the 1943 and 1944 Spring semesters had no "name" bands). Large national bands often did dozens of consecutive one-nighters: playing a dance, packing up, travelling to another town, and performing the next night somewhere else. On these tours, groups would criss-cross the nation in the months surrounding their performance at UT.
Count Basie's Tour, January 1941 - April 1941
Gene Sedric, tenor saxophonist and clarinetist, played with Fletcher Henderson and Fats Waller during the 1930s.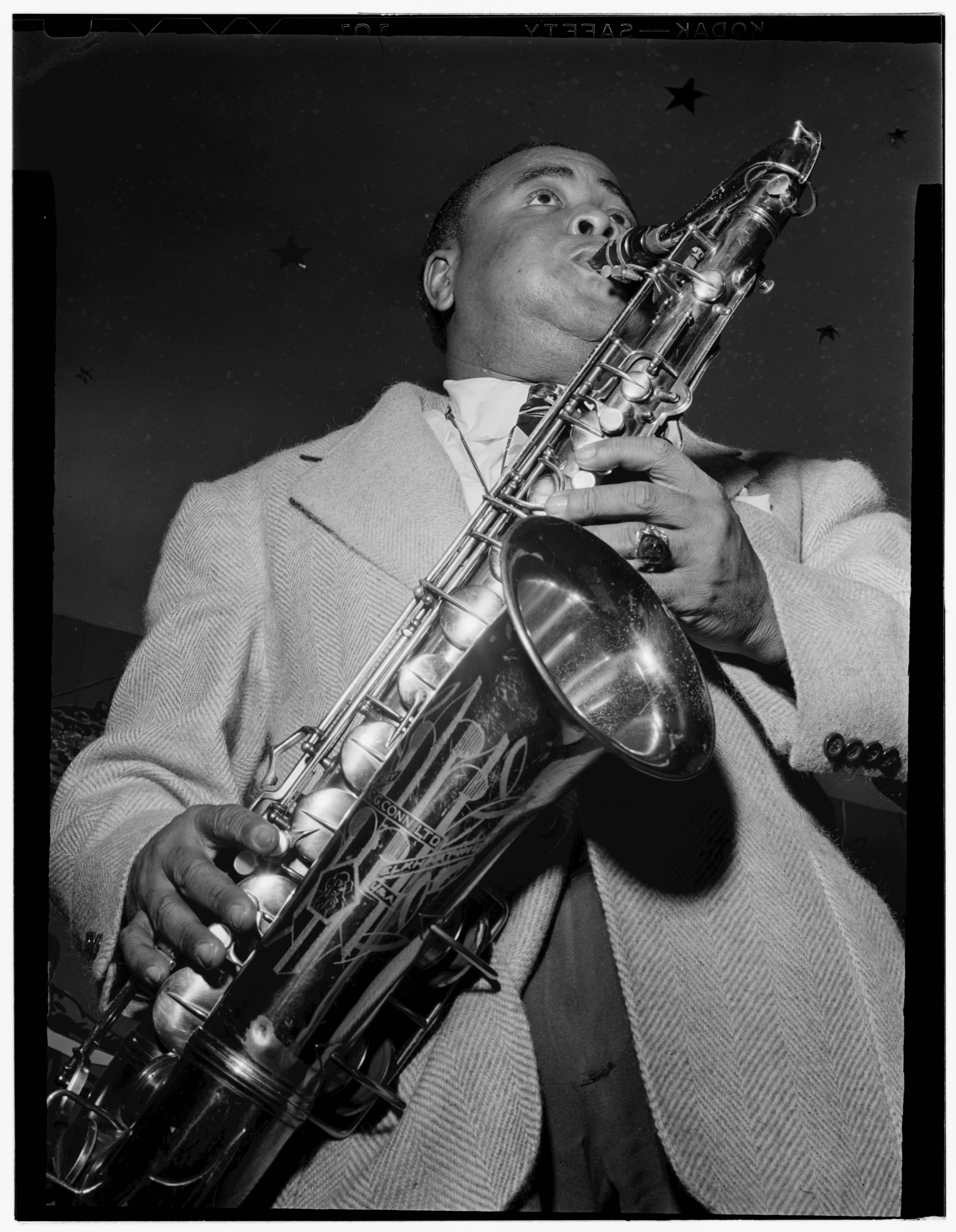 William P. Gottlieb. Portrait of Gene Sedric, The Place, New York, N.Y., ca. July. United States, 1946. Monographic. Photograph.
If the band or musician was African American, the already difficult life on the road could also be dangerous and full of humiliating reminders of America's inequality. Black musicians who travelled from large urban centers in the North to one-night stands in the Jim Crow South crossed into worlds that had new and unfamiliar social rules of white supremacy. Consequentially, they could face brutal racist violence for doing what seemed like basic, everyday things, like speaking to a white friend or eating at a white-owned restaurant.
The saxophonist Charlie Rouse, who grew up on the edge of the South in Washington D.C., recalled a violent experience he had on a Southern tour with Dizzy Gillespie in 1945 (a year before the band visited UT).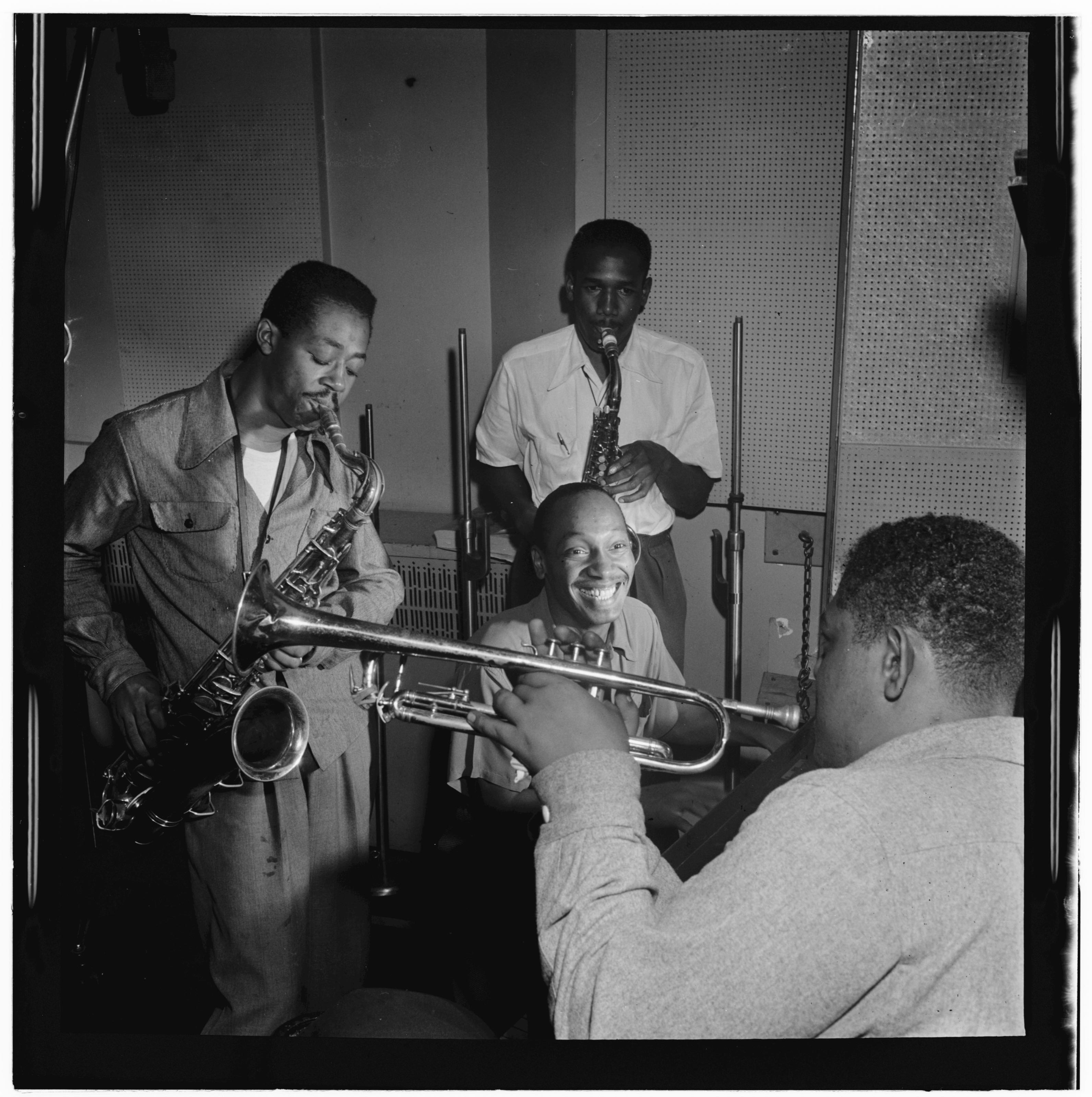 William P. Gottlieb, Portrait of Charlie Rouse, Tadd Dameron, Fats Navarro, and Ernie Henry, New York, N.Y., Between 1946 and 1948. United States, 1946. Monographic. Photograph.
Evidence about how national bands experienced these gigs in Austin, how they perceived Texas, or what happened before and after while travelling through the South is scarce. Although relatively rare, some of these musicians did mention these tours in interviews and autobiographies. Below are some scattered memories and impressions surrounding these concerts at UT in the 1930s and 1940s:
Duke Ellington
Gregory Gym
October 12, 1933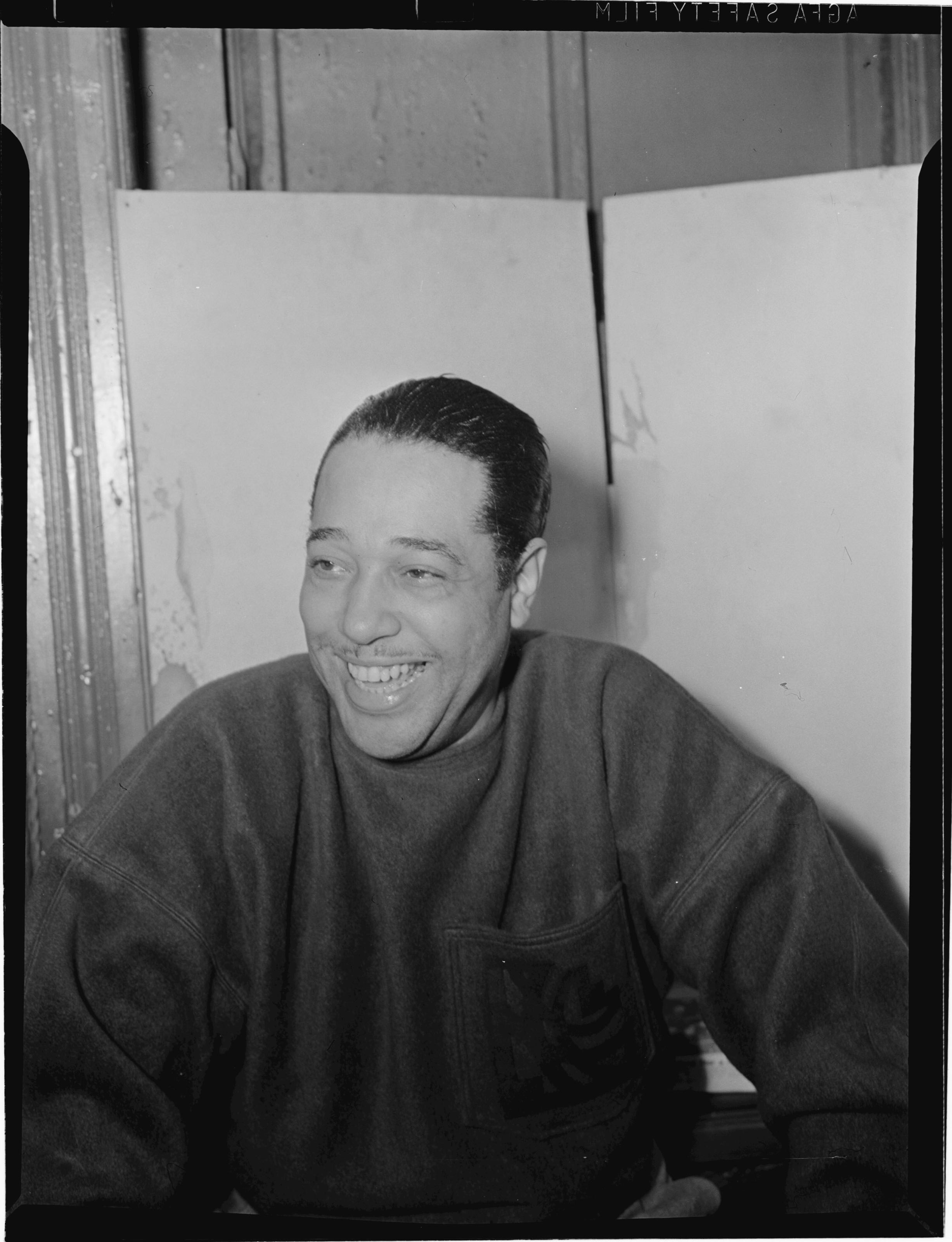 William P. Gottlieb, Portrait of Duke Ellington, Washington, D.C., Between 1938 and 1948. United States, 1938. , Monographic. Photograph.
Juan Tizol
Trombonist in the Duke Ellington Orchestra
Gregory Gym
October 12, 1933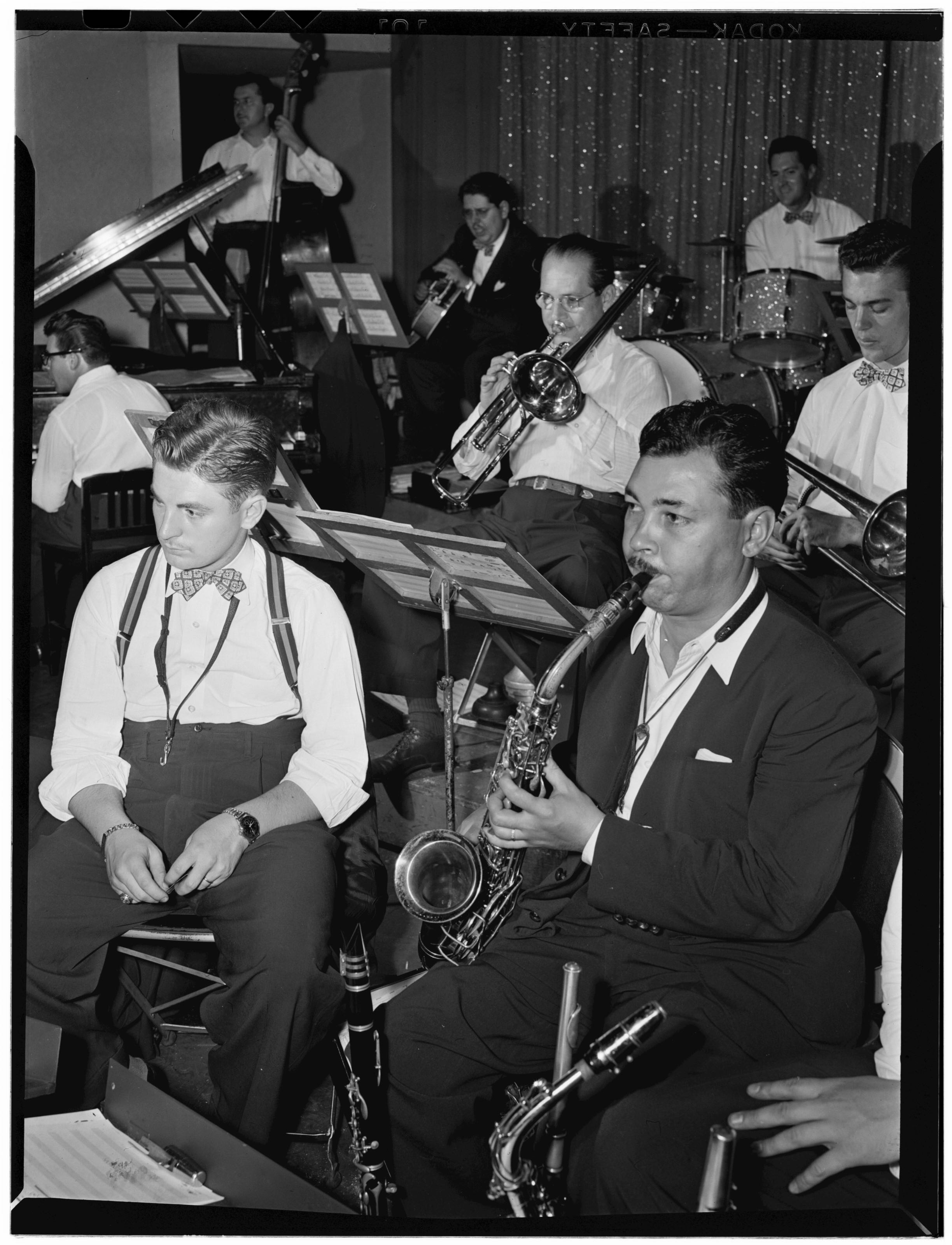 William P. Gottlieb, Portrait of Willie Smith and Juan Tizol, New York, N.Y., Between 1946 and 1948. United States, 1946. , Monographic. Photograph.
Benny Goodman
Gregory Gym
November 2, 1935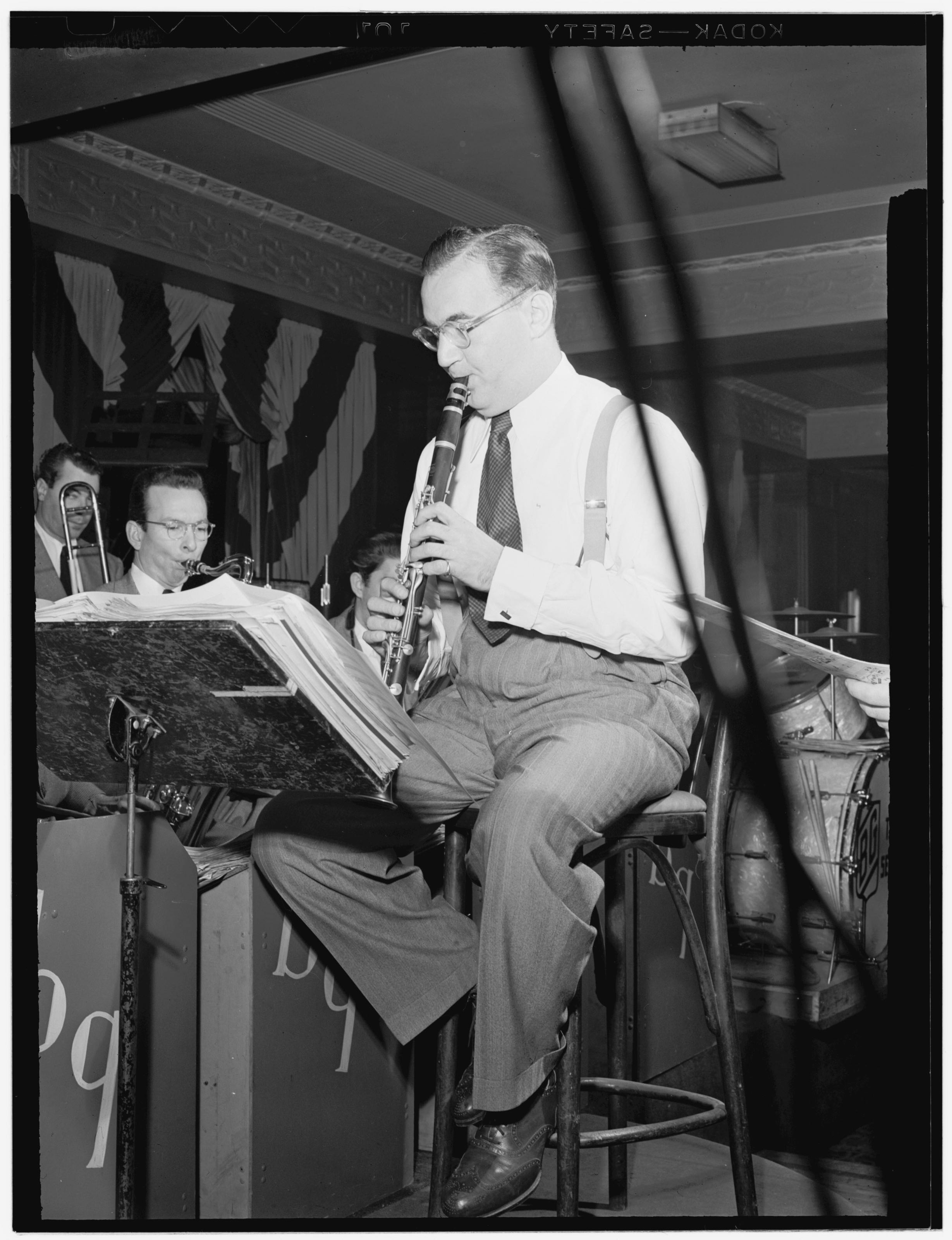 William P. Gottlieb. Portrait of Benny Goodman, 400 Restaurant, New York, N.Y., ca. July. United States, 1946. Monographic. Photograph.
Duke Ellington
Texas Union
November 26, 1936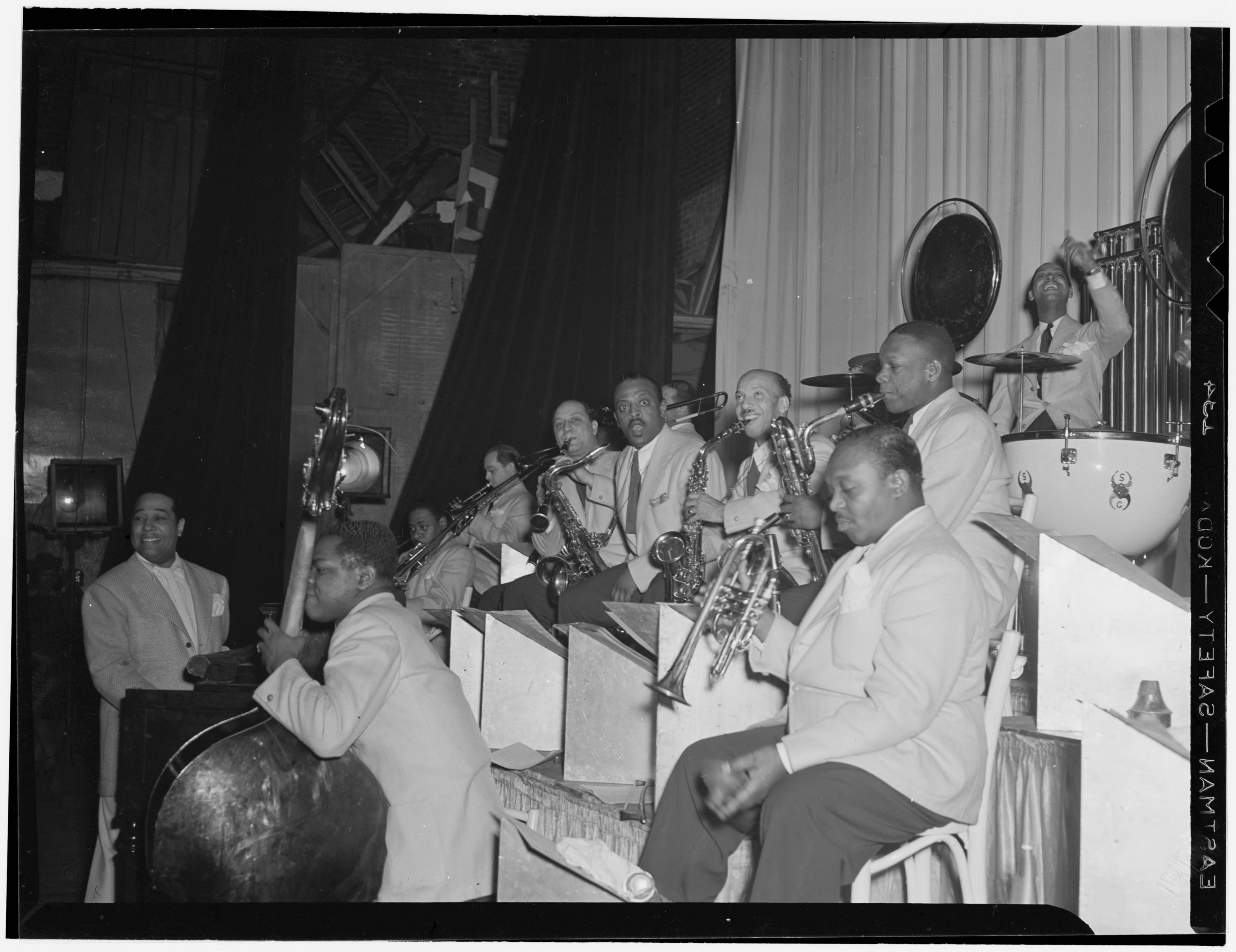 William P. Gottlieb, Portrait of Duke Ellington, Junior Raglin, Tricky Sam Nanton?, Juan Tizol, Barney Bigard, Ben Webster, Otto Toby Hardwicke, Harry Carney, Rex William Stewart, and Sonny Greer, Howard Theater?, Washington, D.C., Between 1938 and 1948. United States, 1938. Monographic. Photograph.
Count Basie
Gregory Gym
March 21, 1941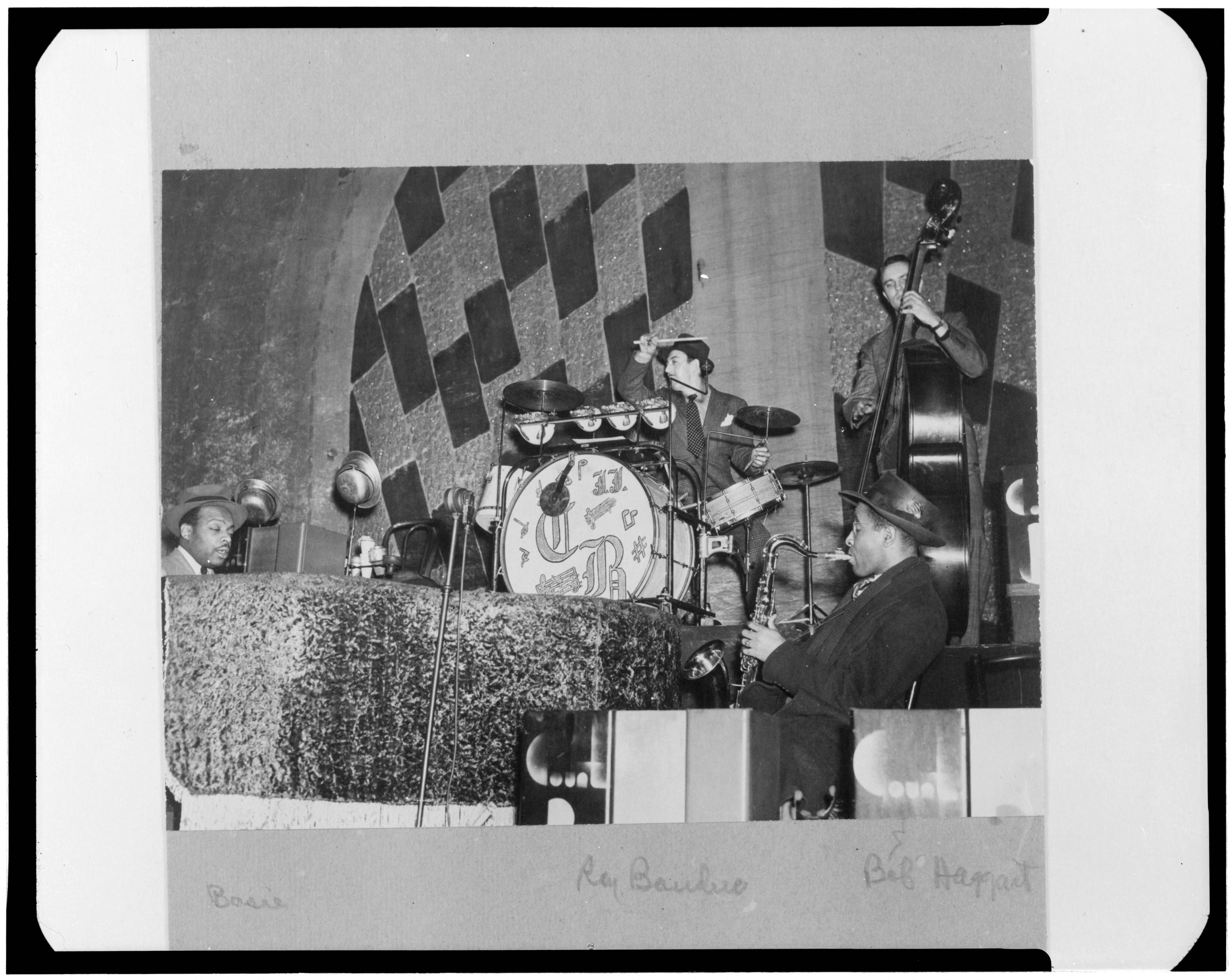 William P. Gottlieb Portrait of Count Basie, Ray Bauduc, Herschel Evans, and Bob Haggart, Howard Theater, Washington, D.C. United States, 1941. Monographic. Photograph.
Fayard Nichols
Dancer with the Dizzy Gillespie Big Band
Tour in the South and Texas
1945
William P. Gottlieb, Portrait of Dizzy Gillespie, New York, N.Y., Between 1946 and 1948. United States, 1946. Monographic. Photograph.
James Moody
Saxophonist with the Dizzy Gillespie Big Band
Gregory Gym
December 14, 1946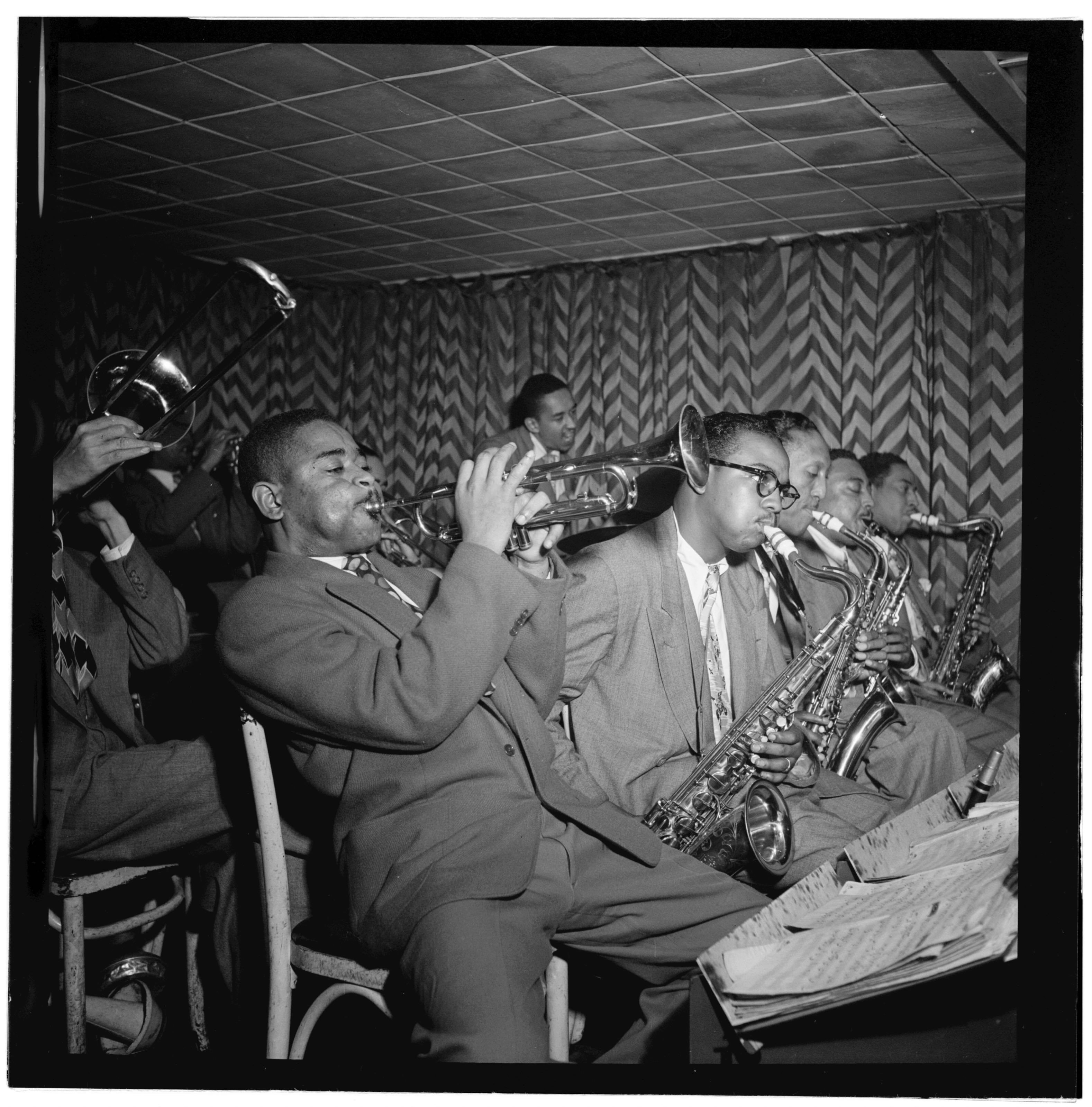 William P. Gottlieb, Portrait of Dizzy Gillespie, James Moody, and Howard Johnson, Downbeat, New York, N.Y., ca. Aug. United States, 1947. Monographic. Photograph.