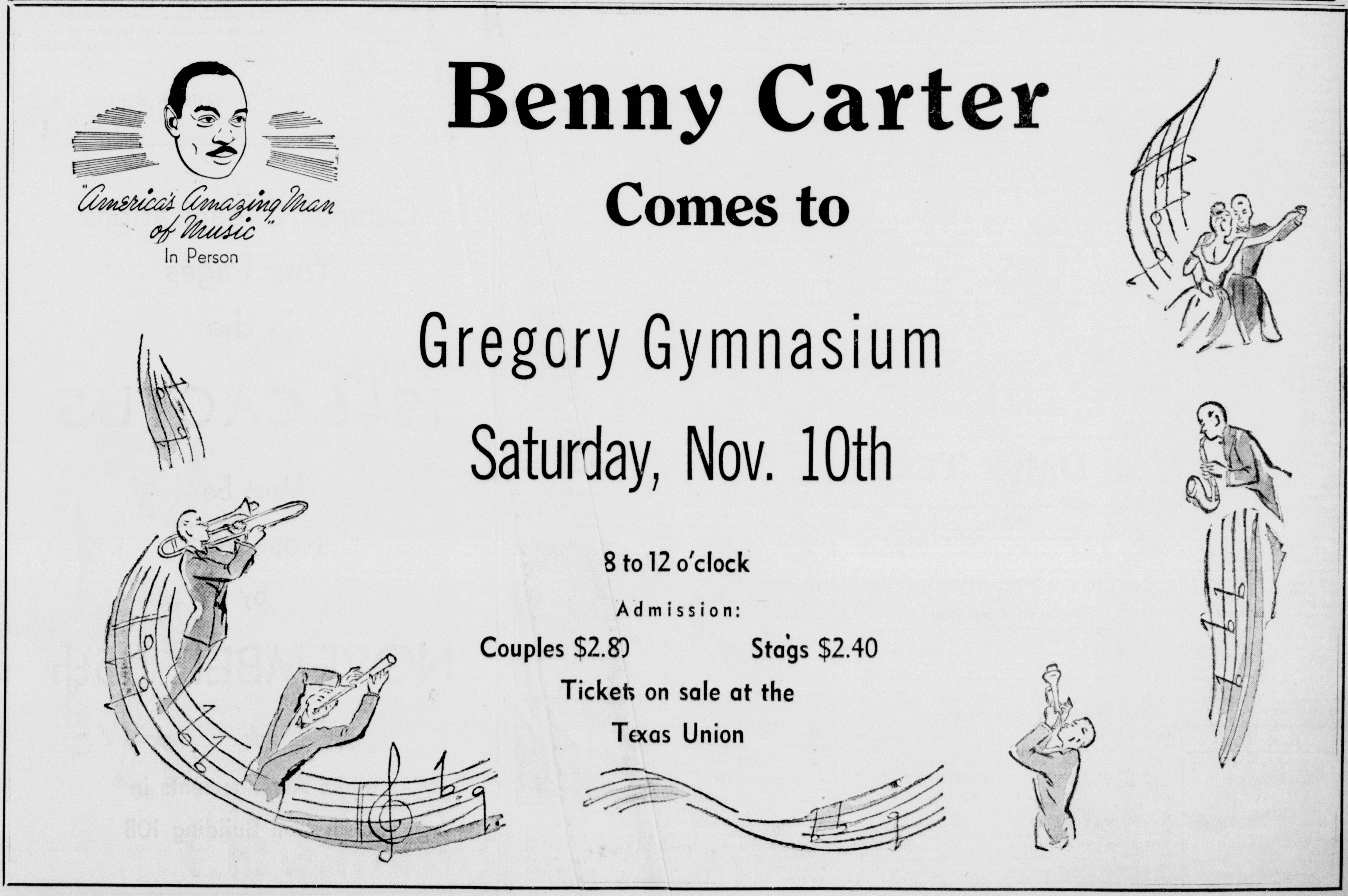 Daily Texan (November 9, 1945)
Introduction: Athens on the Colorado
This exhibit treats a period that is marginal in most people's imagination of Austin music. When someone free-associates music history and Austin, they don't think about the 1930s and 1940s. Typically, music fans connect the Texas capitol with the psychedelic Sixties, the Cosmic Cowboys and Outlaw Country of the Seventies, or the songwriter and punk scenes of the Eighties. They think Willie Nelson, the 13th Floor Elevators, and Townes Van Zandt, not territory and swing bands of the New Deal.
Although seemingly obscure, the Depression and World War Two eras were rich musical moments for Austin. In many ways, this is surprising. Austin was a small, out of the way place in this period. It only had about 53,000 people in 1930 and, even though it had doubled its size in 15 years, it still only had a population of about 101,000 in 1945. To get a sense of how small this was, you can compare it to other cities: in 1930, New York City was about 7 million; Chicago had about 3.5 million; and L.A. had 1.5 million. Even in Texas, Austin was just a fraction of Dallas, Houston, and San Antonio, which ranged between 250,000 and 500,000 people. It was really comparable in size to Amarillo or Lincoln, Nebraska. And Central Texas was far from the music industry, which was centered in the American mega-cities, New York, Chicago, and L.A.1
Despite its size and remoteness, Austin was filled with musical activity between 1929 and 1946. There was a wide variety of vernacular and informal music played within its expanding city limits, from barrel house piano at house parties to spirituals at home and fiddle music in the street. In an oral history in the 1970s, the bassist Gene Ramey recalled black wind bands and blues singers in East Austin in the 1920s and early 1930s. In West Austin, the folklore collectors John and Alan Lomax gathered Anglo ballads from the Gant family and cowboy songs from Alex Moore, "a crippled-up, retired cowboy who sold ice-cream for his living on the streets."2
The universities, however, dominated popular dance music. This was no accident—Austin was a small mecca of education in the Southwest. It had four colleges and universities: the University of Texas , Samuel Huston College, Tillotson College, and St. Edwards University. Part of a Jim Crow city, two of these institutions were white and two were black.
Much of Austin's public music culture in this period was a focused reflection of the taste and dominance of students and, in particular, UT students. A city with an unusually high percentage of students, its popular music performance scene catered to them. Consequently, these young adults, especially at UT, determined a great deal of the contour and fabric of the city's public musical life: the kind of groups that performed, where they played, and who could see them. Their power stemmed from finances: they provided the best paying and most consistent gigs at a time of widespread economic turmoil and suffering.
If we return to the popular imagination of Austin music history, its emphasis falls on outsider or roots music genres: Daniel Johnston at Liberty Lunch or Muddy Waters at Antone's. In contrast, music in this period was decidedly focused on the mainstream. Students wanted dance music—most probably don't think of Vincent Lopez or Earl Hines in this way now, but dance orchestras and swing bands were ultra-modern, cutting edge, and urbane at the time. This was the dominant taste of students, who were young and privileged, and, living in a small city in Texas in the 1930s, were probably looking to the major American metropolises for signs of sophistication and fashion.
The enthusiasm and cash of students drew dance and swing bands to Austin like moths to the flame. For the size of the city, there was a remarkable number of local groups, both black and white, during the 1930s and early 1940s: Steve Gardner's Hokum Kings , Fred Gardner's Troubadours , George Corley's Royal Aces , Carnes Weaver's orchestra , Ben Young and his Music , Tommy Brooks's orchestra , and many more. These musicians are little known today, primarily because Austin live music was centered around territory bands: local Texas dance and jazz groups that provided performances just within the region. The Texas capitol's two most famous jazz musicians, Kenny Dorham and Gene Ramey, had to migrate to Kansas City and New York to find a national audience.
Even if Austin performers weren't being broadcast across the country, stars of the music industry were finding their way to Central Texas. Austin hosted dances by many of the most famous and influential bandleaders during these decades. A virtual list of canonical jazz, sweet, and swing orchestras—Duke Ellington , Louis Armstrong , Paul Whiteman , Jan Garber , Bennie Goodman , Cab Calloway , Jimmie Lunceford , Chick Webb—played on Austin stages. The presence of so many universities ensured that the Hill Country found a spot on this period's arduous tours through Texas and the South.
Finally and most crucially, this period was deeply marked by Jim Crow segregation. Austin's urban landscape, its universities, its bands, and its businesses were unequally divided according to race. Our period here, the 1930s and early 1940s, was perhaps the height of such legal-social discrimination and separation in Texas's capital. These divisions left a long and lasting legacy on both the city and its music. The story of African-, Anglo-, and Mexican-American Austinites' relationships and interactions will be a continuing thread through Local Memory.
Notes
See the list of the 100 largest cities in the United States in 1940 from census.gov. Austin's population history can be seen at austintexas.gov. ⏎
Alan Lomax, Notes to Texas Folksongs, Tradition Records TLP 1029. ⏎