Johnny Simmons was one of the quintessential bandleaders in Austin at the midcentury, although he is little remembered or celebrated today. When he died in 1955, the Austin American called him "one of Austin's best known musical figures" and Lavada Durst (Dr. Hepcat) hosted an all-star musical tribute to him at the Dorie Miller Auditorium, a center of black cultural life. A decade before, an ad for a gig claimed that his band "was one of the most popular orchestras in the South" (although this may just have been advertising hyperbole). Another posting called him "the man who makes the piano talk" (whatever that might mean).
Simmons began leading a Texas territory band at the tail end of their most distinctive period (the 1920s - late 1930s). One of his first bands, in 1938, was the "Blue Devils," a tribute to Walter Page's famous Kansas City band of the same name. He must have been a talented pianist, for he reportedly played with the Jimmie Lunceford orchestra, one of the most famous Swing outfits at the time. Lunceford often toured through Austin during period and probably heard and hired him while in town.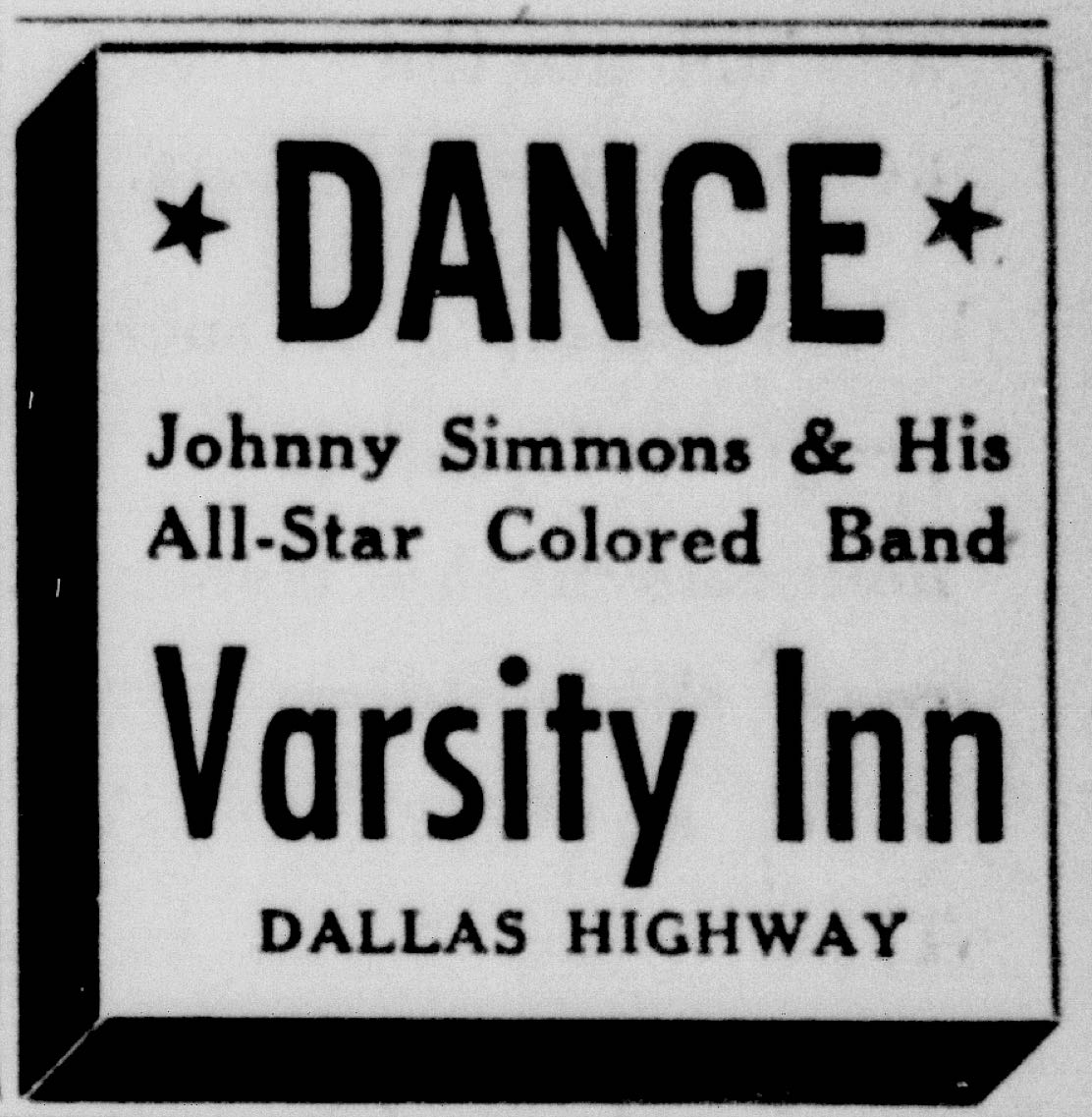 Daily Texan, April 14, 1943.
His tenure with Lunceford must have been short, for Simmons was a centerpiece of Austin's dance culture in the 1940s. He fronted groups that held weekly to monthly gigs at many of the city's major dinner and dance venues: the Varsity Inn and Jack and Helen's in 1943, Opal's and the Trocadero Dinner Club in 1946, Club 81 in 1947, and the Cinderella Club in 1949. He also played dances at L.C. Anderson, Austin's segregated black high school. As Austin's music club scene began to blow up after the end of the Second World War, Simmons was a consistent element of it, often playing in the same places as Honk Tonk Country and Western Swing bands.
As far as can be determined, Simmons's music transformed with the times and with his employers. He was described as "red hot swing" in 1939 and he seemed to have kept up a dance orchestra throughout the 1940s and early 1950s. But the band was versatile and, at least once in 1943, he played a "barn dance" with old time and hillbilly music for a UT fraternity.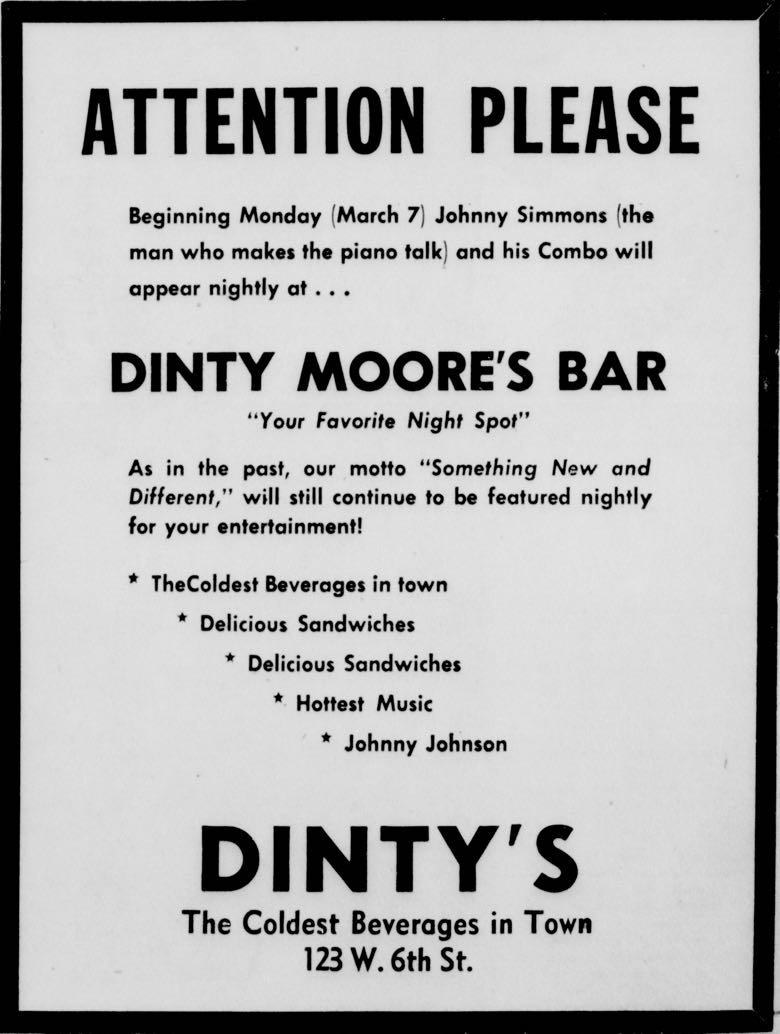 Daily Texan, March 6, 1949.
Simmons probably also led one of the first Rhythm and Blues or Jump Blues combos in Central Texas. Houston's R&B scene was rich and well-preserved by Don Robey's Peacock records, but Austin's is still relatively un-documented. There are some good indications that Simmons led R&B bands in the 1940s, however. We know that he played at The Riviera club in 1946 with Estelle Edson, who made some early jump blues recordings with Oscar Pettiford the same year. Photos show that his band mimicked the line up of Louis Jordan's Tympani Five, the pioneering jump blues band, with a rhythm section plus two saxophones and a trumpet. In the late 1940s and early 1950s, Lavada Durst, at the height of his popularity as a R&B and jazz DJ (Dr. Hepcat), would sit in with Simmons band in public, possibly playing some of his R&B compositions like "Hattie Green." 1
Although no recordings are known to exist, Simmons may have been a member of the Texas Barrelhouse piano tradition like Durst. In a number of ads and articles in the 1940s, he is described as a "boogie woogie" pianist, a distinctive style rooted in the itinerant barrelhouse performers of East Texas from the late 19th century through the 1920s. Austin became fertile ground for this tradition, since Robert Shaw, a pianist of the barrelhouse Sante Fe group, moved to the city in the early 1930s. Similar pianists like Baby Dotson, Black Tank, and Boots Walton played around town in the 1920s as well, Durst recalled. 2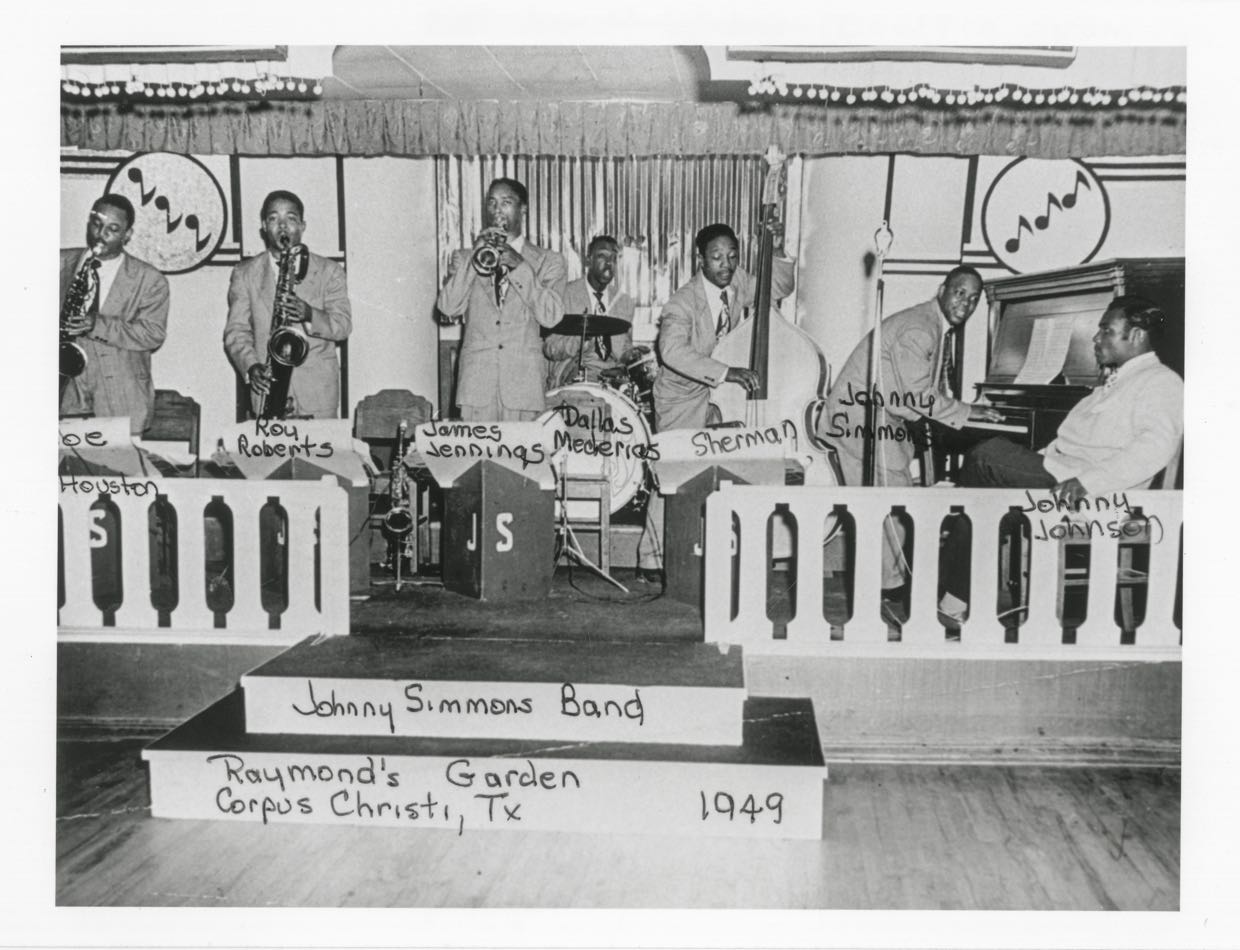 PICA 30020, Austin History Center.
He also nurtured and featured some of the best African American talent in Central Texas. Two remaining photographs in the Austin History Center collection shows a couple of his late forties bands. In them are Paris Jones and Joe Houston. Jones, a cousin of the pioneering jazz bassist Gene Ramey, taught the bebop trumpeter Kenny Dorham, who grew up in Austin. Here is how Ramey remembered him in an oral history in the 1970s:
Ramey: [He] was the one that Kenny Dorham actually learned from. They were like brothers. And when Diz [Gillespie] came to Texas, he'd always look for my second cousin, Paris Jones.
Stanley Dance: Well, what did he play?
Ramey: He played trumpet and he was one of the greatest in the United States. But he wouldn't leave Texas. He was a professor, he taught.
Dance: Did he play jazz or legitimate stuff?
Ramey: Playing jazz. Yeah, Diz and them are afraid of him. Kenny Dorham will tell you in a minute, if you want to hear something, go down and hear your second cousin. But he passed away very young, last year. 3
Joe Houston, the son of a Baptist preacher, was also from Austin, but left after High School to join the touring King Colfax band. After moving to Baton Rouge and Houston, where he played with Big Joe Turner and Amos Milburn, he re-located to Los Angeles in the early 1950s. A honker of the Texas Tenor school, he became one of the biggest stars of R&B and Rock and Roll saxophone. Houston's presence in the band in 1949, right when he had begun to record some of his first R&B sax singles for Freedom records, gives further evidence that Simmons led one of the first R&B bands in Austin.